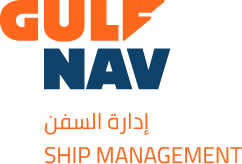 GULFNAV Ship Management
FOR SAFETY,
RELIABILITY & VALUE
WE GO FURTHER
Since 2009, GULFNAV Ship Management has built a reputation across the Middle East and beyond for knowledge, cost efficiency and full compliance with international standards. This is accompanied by a deep commitment to promote more sustainable practices and reduce our environmental impact.
ON SHORE. OFF SHORE. ON A MISSION.
We provide a complete range of ship management and maritime services, including crew management, technical support and consultancy services
AN AGILE PARTNER IN FAST-CHANGING TIMES
Managing ships in today's climate requires expert knowledge of ever-evolving regulations, combined with a wide scope of expertise and experience. GULFNAV Ship Management takes this responsibility seriously to meet the requirements of shipowners, flag states, port states, class societies, charterers and other stakeholders.
Whether it's operating managed vessels efficiently or protecting crews in full compliance with IMO's International Safety Management Code, we're trusted by industry leaders to stay ahead of changes and deliver tangible value.
MAXIMIZING EFFICIENCY.
MINIMISING RISK.
CREW YOU CAN BANK ON
REPAIRS THAT KEEP YOU MOVING
PRE-PURCHASE EXPERTISE

WHY CLIENTS CHOOSE GULFNAV SHIP MANAGEMENT
Our team of experts provides tailored ship management and consultancy services to suit your needs and vessels - from crew operations and asset management, to supervision of ship-building projects and pre-purchase technical advice.
Complete Technical Management
Our unrivalled technical expertise is geared to optimising performance, minimizing downtime and delivering long-term reliability and value. We can provide total drydock solutions and cover technical management for all types of ships, including those transporting crude oil, chemicals and petroleum (IMO)
Crew Management
Our crew is the heart of our business - and vital to yours. That's why we recruit from a global market of seafarers, building skills with continuous training to ensure officers and crew meet our rigorous standards. Regular crew performance reports, long-term rotation planning and stringent safety checks back up our excellent well-being and performance records..
Awarded
"Best Ship Management
Company in the UAE"
by MEA, Maritime and Shipping,
London (2016)
Quality and Environmental Management
Our safety and environmental management system ensures vessels are continuously maintained in line with the sector's s most stringent regulatory frameworks. These include International Safety Management (ISM) Law, flag state law, port state monitoring and social classification rules. We are certified in full compliance with ISO 9001:2015 and 14001:2015, and ships are subject to regular independent inspections and auditing..
Asset Management
We combine industry-leading expertise and advanced processes to provide unrivalled cost-efficiency and asset management. Working with cutting-edge software and systems for shore and ship-based operations, our technical and administrative teams go the extra mile to seek efficiencies and maximize revenue.